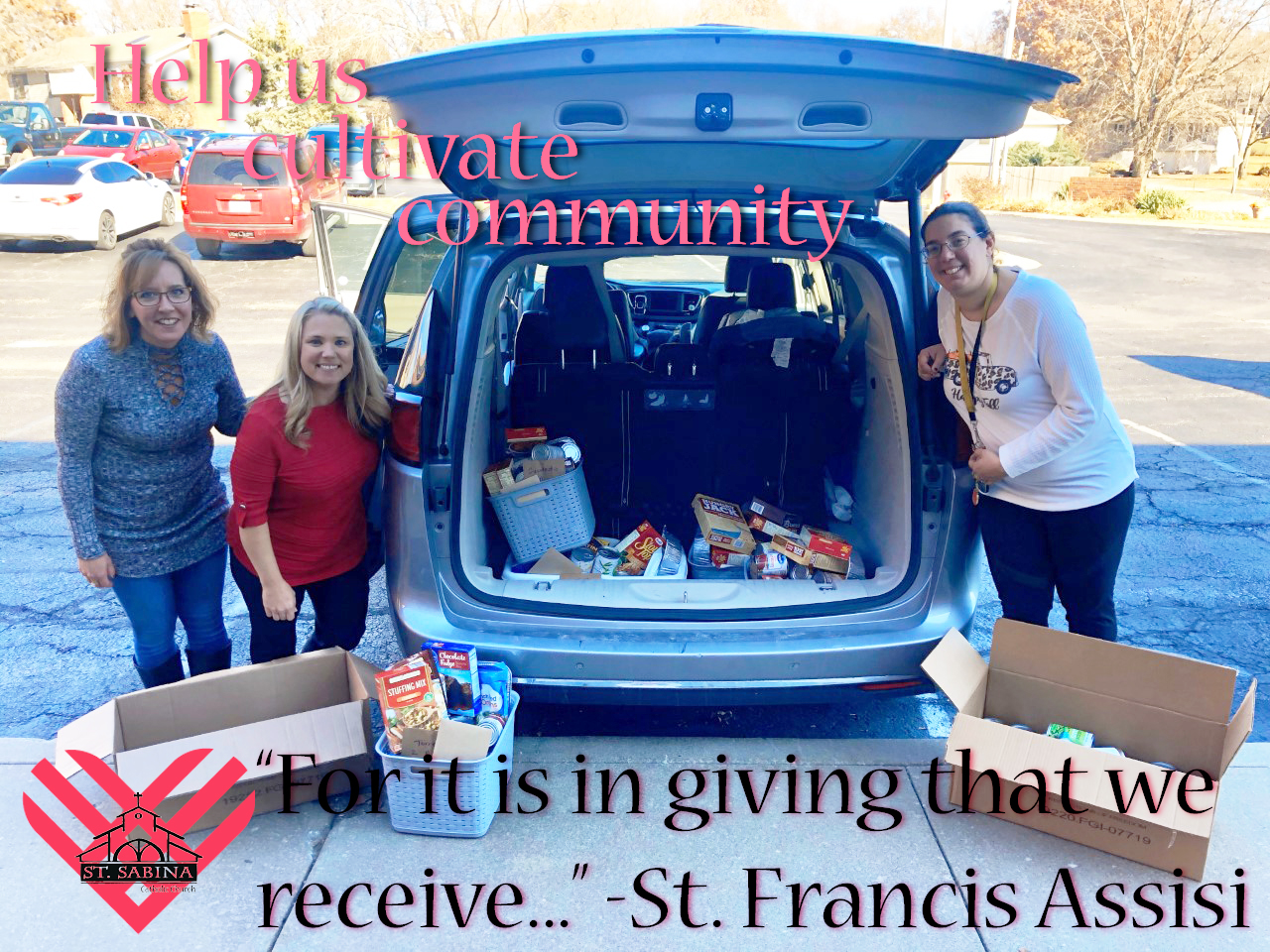 In the book of Genesis, the very first book of the Bible – the very beginning of time, we learn about stewardship. God gifts the human race the garden. In order to be good stewards of God's gift, man is "to cultivate and care for it." The US Conference of Catholic Bishops tells us that "Stewardship is an expression of discipleship." As disciples, we must recognize that all that we have – our talents, our free will, our opportunities, the earth, sun and water to provide food, the intelligence to make machines and medicines that facilitate our lives in countless ways, everything – is a gift from God, an expression of God's love for us. As stewards, we are to share that love by imitating Christ, by sharing our gifts with all. In sharing our gifts we are cultivating and caring for all of God's creation, just as we were commissioned in Genesis.
As we enter the hustle and bustle of Christmas shopping and the holiday season, Black Friday sales and Cyber Monday deals, we ask that you participate in #GivingTuesday as well. People can show their generosity in a variety of ways during #GivingTuesday⁠⁠—whether it's helping a neighbor, advocating for an issue, sharing a skill, or giving back to your community—everyone has something to give and every act of generosity counts.
This #GivingTuesday, you can help cultivate our parish community in many ways.
Your financial gifts to our parish help pay the utilities to keep it running, provide necessary supplies for our programs and ministries, allow us to create fellowship opportunities for our parish family, pay our staff who keep things running smoothly, and cover unexpected repair and maintenance expenses:
$40 covers a month's worth of RCIA expenses
$100 covers a month's worth of candles
$330 covers a month's worth of phone and internet bills for the office
$375 covers a month's worth of postage and office supplies
$415 covers a month's worth of Parish School of Religion expenses
$525 covers a month's worth of expenses for our youth groups and confirmation formation
$940 covers a month's worth of gas for our facilities
$1,800 covers a month's worth of electric expenses for our facilities
If donating with a credit card, consider adding a few extra dollars to your donation to defray the cost of processing fees.
These numbers are an example of just a few of our expenses, and how your donations could help, but no gift is too small. The livelihood of our parish depends on the gifts of all members of our parish family.
We would love to make your donation the gift that gives twice through the gift of prayer. If you would like to include the name of a loved one to make your donation in memory of, or in honor of, we will remember and include them on our #GivingTuesday prayer list. Select "Giving Tuesday" in the "Donate to this fund" field, and include the name you'd like on the prayer list in the memo line. 
Other Ways to Give
Your shared gifts of time and talent are equally vital and precious to our parish family. You can learn more about ways you can help cultivate and serve here. We are in special need of substitute teachers for PSR, volunteers to stream/record Mass, altar servers and hospitality ministers. If you would like to help with any of these ministries, please contact the parish office and we will connect you to the appropriate staff member.
Make #GivingTuesday Part of Your Year-End Charitable Giving:
It is never too early to start thinking about year-end charitable giving. When you itemize deductions, funds used to make gifts are subtracted from the amount subject to tax. This means the higher your tax bracket, the more you save. Regardless of your income tax bracket, charitable gifts can provide welcome savings at tax time. Additionally, you can feel good about being a thoughtful steward of your resources and supporting your parish community, "for it is in giving, that we receive."