Meet El Salvador Scholarship Student, Heydi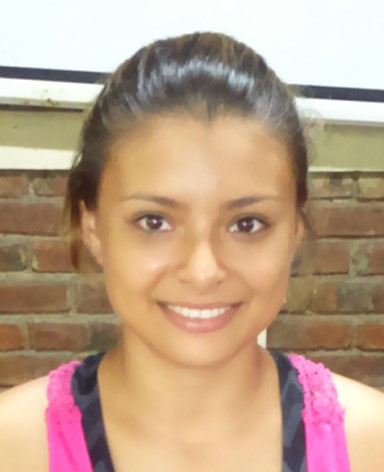 Heydi Gomez lives in a small community outside of Cinquera, called San Francisco Echeverria. She is 21 years old and she attends the University of El Salvador. She is currently is her 4th year of study and she is majoring in Sport and Recreation Education. She entered the scholarship program in 2014 and she is expected to graduate in 2018.
Heydi has classes Monday through Friday from 8am-5pm. She leaves her home in Cinquera each Sunday at 3pm for the 4 hour bus ride to San Salvador. After a week of classes, she arrives home each Saturday at 10 in the morning to spend weekends with her family.
While the scholarship funds from St. Sabina pay for most of Heydi's tuition, she still incurs expenses. Her monthly bus costs are $32.50 and her costs for lunch are $20 per month. Her books and printing costs are $15 per month, and her internet and miscellaneous fees come to $9.80 each month.
Heydi's family makes its living by farming. Her mom also has a sewing machine and sews for people on the side. Her home is built of cementer blocks with an outhouse. The family has access to potable water and the house has electricity.
Heydi lives with her mother, her 19 year old sister, Jeaneth, and her 3 year old brother, Angel. When Fr. Jeff, Kris and Jeannine were in El Salvador this past January, Heydi and her mother invited them to their home for vegetable soup. It was such a special occasion for the family, that Heydi's mother killed one of their chickens to cook for lunch. Even though baseball is not popular in El Salvador, Heydi was particularly interested in hearing about the Royals winning the World Series.
Heydi's biggest challenge in completing her degree is the amount of physical strength required. She says that this is more of a skill for men, so she has been kind of marginalized. Her biggest challenge outside of school is the commute from home to school and the violence in the country, living in constant fear of gang activity. After graduation Heydi hopes to find a job in her community and continue providing support to the municipality, to the young people, and to her family. She wants to develop physical education and sports programs for the youth. Pictured below are Fr. Jeff, Jeaneth, Kris, Heydi, Jeannine, Angel and Heydi's mom, Julia. To donate to our El Salvador Scholarship fund, click on "Online Giving" above.