Meet El Salvador Scholarship Student, Keyly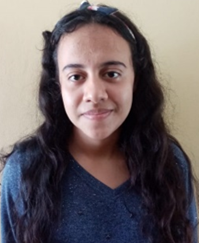 Keyly is from the community of San Nicolas, just outside of Cinquera, and is 18 years old. She is currently in her first year of study at the Catholic University of El Salvador and her field of study is Nursing.  She is expected to graduate in 2024 and her grade point average last semester was 8.4.
Keyly lives with her mother, Morena, who is 62 years old, a homemaker and received a 3rd-grade education.
Below please read Keyly's comments about the Scholarship program, her challenges and her future plans.
WHAT IMPACT HAS THE SCHOLARSHIP PROGRAM HAD ON YOUR LIFE?
The program has been of a great help for me, as it's giving me the opportunity to pursue my university education. I had already dropped out of school, as my parents couldn't afford my education. My mother and I are very committed to the program, as I want to finish my course work and graduate in the expected time.
WHAT IMPACT HAS THE SCHOLARSHIP PROGRAM HAD ON YOUR COMMUNITY?
The scholarship program is very well known in my community. Many youth have had an opportunity to achieve their dreams. In San Nicolas, there are several former scholarship recipients who graduated thanks to this amazing program.
WHAT HAVE BEEN YOUR GREATEST OBSTACLES IN ORDER TO CONTINUE YOUR EDUCATION?
Through this pandemic it has been very hard to continue studying virtually. Where I live there is not good reception, and I have to go to Cinquera every day to be able to receive my classes. Transportation to university is also an obstacle, as I have to travel 25 kilometers and I'm exposed to robberies and accidents. Bus drivers also drive unsafely, and are often mean to their passengers.
WHAT ARE YOUR PLANS AFTER GRADUATING FROM HIGH SCHOOL OR UNIVERSITY?
Personally, I want to be at the service of my community, as the knowledge I have acquired in the field of nursing is very valuable. I also want to find a job.