Meet El Salvador Scholarship Student, Khaterin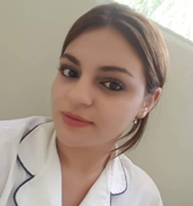 Khaterin is from the community of Cinquera and is 23 years old. She is currently in her fifth year of study at Catholic University of El Salvador and her field of study is Nursing.  She is expected to graduate in October of 2021 and her grade point average last semester was 8.3.
Khaterin lives with her parents, her grandmother and her sister.  Her father, Edwin, is 39 years old, a construction worker, and received a 6th-grade education.  Her mother, Sonia, is 41, a homemaker, and completed high school.  Khaterin's grandmother, Gloria de Jesus, is 79 and received a middle school education.  Her sister, Camila, is 9 years old and is middle school.
Below please read Khaterin's comments about the Scholarship program, her challenges and her future plans.
WHAT IMPACT HAS THE SCHOLARSHIP PROGRAM HAD ON YOUR LIFE?
It has been a great impact in my life, because it has benefited me and my family. Thanks to the scholarship I'm about to finish my course work at University.
WHAT IMPACT HAS THE SCHOLARSHIP PROGRAM HAD ON YOUR COMMUNITY?
It has a great impact, as there are many young people with scarce economic resources who want to pursue an education and become professionals. We have that opportunity thanks to the program, and we can make that dream come true.
WHAT HAVE BEEN YOUR GREATEST OBSTACLES IN ORDER TO CONTINUE YOUR EDUCATION?
Transportation means are an obstacle, as the public transportation system has really bad schedules. I have to wait more than an hour for the bus that takes me home when I finish my classes. Also, due to the pandemic for COVID-19, it has been hard to have online classes, as the internet signal is very bad in my community.
WHAT ARE YOUR PLANS AFTER GRADUATING FROM HIGH SCHOOL OR UNIVERSITY?
I want to work to put into practice my knowledge and support my community in anything I can or in my field.