Meet El Salvador Scholarship Student, Guadalupe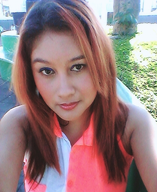 Guadalupe Beatriz Lopez Diaz lives in a small community outside of Cinquera, called San Nicolas. She is 22 years old and she attends the Lutheran University in San Salvador.  She is currently is her 2nd year of study and she is majoring in Public Accounting. She entered the scholarship program in 2015 and she is expected to graduate in 2020.
Guadalupe has classes on Fridays from 4pm-7:20pm and on Saturday from 7am-3:30pm.  She leaves her home in Cinquera each Friday at noon for the 4 hour bus ride to San Salvador.  After a weekend of classes, she arrives home each Sunday at noon.
Guadalupe's family makes its living by farming. Her home is built of a mixture of materials with an outhouse.  The family has access to potable water and the house has electricity.
Guadalupe lives with her mother and father, her 20 year old sister, Carolina, her 18 year old brother, Franco, her 15 year old sister, Cintia, her 10 year old sister, Daniela, and her 3 year old twin brother and sister, Brayan and Dayana.
Guadalupe was involved in the community project of cleaning the hostel, restaurant, and ecological forest reserve in Cinquera. She also works with the youth in the community of San Nicolas.
Guadalupe's major challenges have been with the delinquency of the youth associated with the gangs and the violence in the country.  Transportation is a real burden for her as she has to walk 3 km alone at night.
To donate to our El Salvador Scholarship fund, click on "Online Giving" above.