Meet El Salvador Scholarship Student, Glenda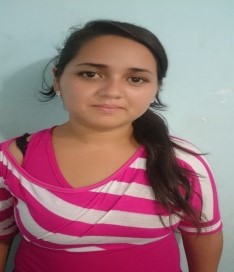 Glenda Arely Aguilar Acosta lives in a small community outside of Cinquera, called El Tule. She is 19 years old and she attends the Lutheran University in San Salvador.  She is currently is her 1st year of study and she is majoring in Legal Science. She entered the scholarship program in 2016 and she is expected to graduate in 2021.
Glenda has classes on Monday-Friday (except for Thursday) from 8am-11:20am. On Thursdays and Saturdays she has classes from 8am-1pm.  She leaves her home near Cinquera each Monday at 4am for the 4 hour bus ride to San Salvador.  After a week of classes, she arrives home each Saturday at 7pm.
Glenda's family makes its living by farming. Her home is built of a mixture of materials with an outhouse.  The family has access to potable water and the house has electricity.
Glenda lives with her mother and father, her 16 year old sister, Sandra, her 9 year old sister, Ana, and her 10 month old sister, Dariana.
Glenda was involved in the community project of cleaning the hostel, restaurant, ecological forest reserve and the river in Cinquera. She also took part in projects which aimed at helping communities with social, religious and cultural activities.
Glenda's major challenges are the economic challenges of the additional expenses she incurs while at school. She also has experienced being marginalized because she is female. She mentioned that the men at her school thought she could not defend herself.  This was very challenging for her.
Glenda is very thankful to begin her first year in the scholarship program.  After completion of the program and upon finding work, each scholarship recipient is required to pay back 50% of the tuition funds they received. Glenda says after graduation it is most important for her to pay back the 50% because the scholarship allowed her to make her dreams come true. She believes the scholarship program allows young people with few economic resources to pursue their studies and not feel undermined among their friends.
To donate to our El Salvador Scholarship fund, click on "Online Giving" above.