Meet El Salvador Scholarship Student, Dayana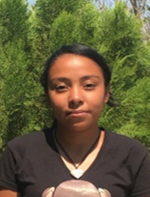 Dayana is from the municipality of San Isidro in the community of El Llano de la Hacienda, and is 18 years old. She is currently in her first year of study and her field of study is Computer Science.  She is expected to graduate in 2026 and her grade point average last semester was 8.0.
Dayana lives wither her mother, grandfather and her brother. Her mother, Blanca, is 42 years old, a homemaker and received an eighth-grade education.  Her grandfather, Jesús, is a farmer and never went to school.  Dayana's brother, Jesús, is 10 years old and is in the fourth grade.
Below please read Dayana's comments about the Scholarship program, her challenges and her future plans.
WHAT IMPACT HAS THE SCHOLARSHIP PROGRAM HAD ON YOUR LIFE?
The program has had a great impact in my life, as it has helped me a lot. Without the program I wouldn't have been able to continue with my education in high school, and I definitely wouldn't be coursing my first year in university. The program has also impacted my life at a personal level, I'm no longer shy or afraid, as every workshop teach us a great lesson, as well as help us become confident and help others in need. In addition, thanks to the program I have met many people who have become friends.
WHAT IMPACT HAS THE SCHOLARSHIP PROGRAM HAD ON YOUR COMMUNITY?
It has had a positive impact, as it has provided the opportunity of pursuing an education for those who are economically disadvantaged. The program has a great influence on locals and their children, as they are impacted by the social projects we carry out. We have shared and transmitted what we learned with parents and children, and this benefits the changes in our community. People understand that the program helps communities without expecting any benefits for themselves, as it is implicit in CIS's name, it's a solidarity organization that seeks to contribute to the development of communities.
WHAT HAVE BEEN YOUR GREATEST OBSTACLES IN ORDER TO CONTINUE YOUR EDUCATION?
The lack of economic resources has been one of my greatest obstacles, as my mother doesn't have a stable job, so we depend on my grandfather's job which is farming. The social insecurity is also an obstacle, and a problem that everyone in the country faces daily.
WHAT ARE YOUR PLANS AFTER GRADUATING FROM HIGH SCHOOL OR UNIVERSITY?
I want to get a job when I finish my university career. I hope to find a stable job to be able to help my family and other young people who needed. I want to study another university degree; I would like to continue pursuing an education and learning more things. Finally, I wish to have the opportunity to travel and learn some languages.