Meet El Salvador Scholarship Student, Mariela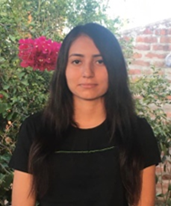 Mariela is from the municipality of San Isidro in the community of El Llano de la Hacienda, and is 19 years old. She is currently in her fifth year of study and her field of study is Social Work.  She is expected to graduate in January of 2022 and her grade point average last semester was 9.0.
Mariela lives with her parents, her brother, and her sister.  Her mother, Maria, is 53 years old, a homemaker, and received a second-grade education. Her father, Juan, is 52 years old, a farmer, and received a second-grade education.  Mariela's brother, Alvaro, is 22 and is a construction worker. Her sister, Juana, is 21, a homemaker and completed training as a technician in tourism management.
Below please read Mariela's comments about the Scholarship program, her challenges and her future plans.
WHAT IMPACT HAS THE SCHOLARSHIP PROGRAM HAD ON YOUR LIFE?
Being part of the scholarship program has given me the opportunity to grow academically, and the most important, grow as a person. Thanks to the program I graduated from high school, and I'm now studying a degree in social work in university. I have learned to defeat my fears and insecurities, as through monthly workshops imparted within the program, I have learned many things and met extraordinary people who have a lot of knowledge and dreams. The program has had a strong influence in the person I am now, and who I want to become in the future.
WHAT IMPACT HAS THE SCHOLARSHIP PROGRAM HAD ON YOUR COMMUNITY?
The impact has been significant, as many teenagers who are graduating from ninth grade have the opportunity to have a scholarship and continue their education, which was not possible in past years. As scholarship recipients, we also contribute through our social projects. We raise awareness among children about environmental themes, which in a short term will contribute to the development of our community in general.
WHAT HAVE BEEN YOUR GREATEST OBSTACLES IN ORDER TO CONTINUE YOUR EDUCATION?
Among the things that have hindered me from advancing are mainly not having enough economic resources to fully cover all my education expenses. None of my family members have a stable job or income, so we only depend on my siblings who migrated to another country. Other obstacles I have faced are my insecurities and personal fears. I'm currently working on these things, but it affected my personal life in the past.
WHAT ARE YOUR PLANS AFTER GRADUATING FROM HIGH SCHOOL OR UNIVERSITY?
I want to work to contribute economically to my family. I want to find a job as a social worker and do my work in the best way possible. I would also like to continue preparing myself academically and learn new things. I hope I can have the opportunity to join human rights movements, especially women's rights. In the future, I dream of having my own shelter to rescue animals. Among some of my long-term goals I want to travel and learn about other countries' cultures, have my own drawing and painting workshops, and write a book.