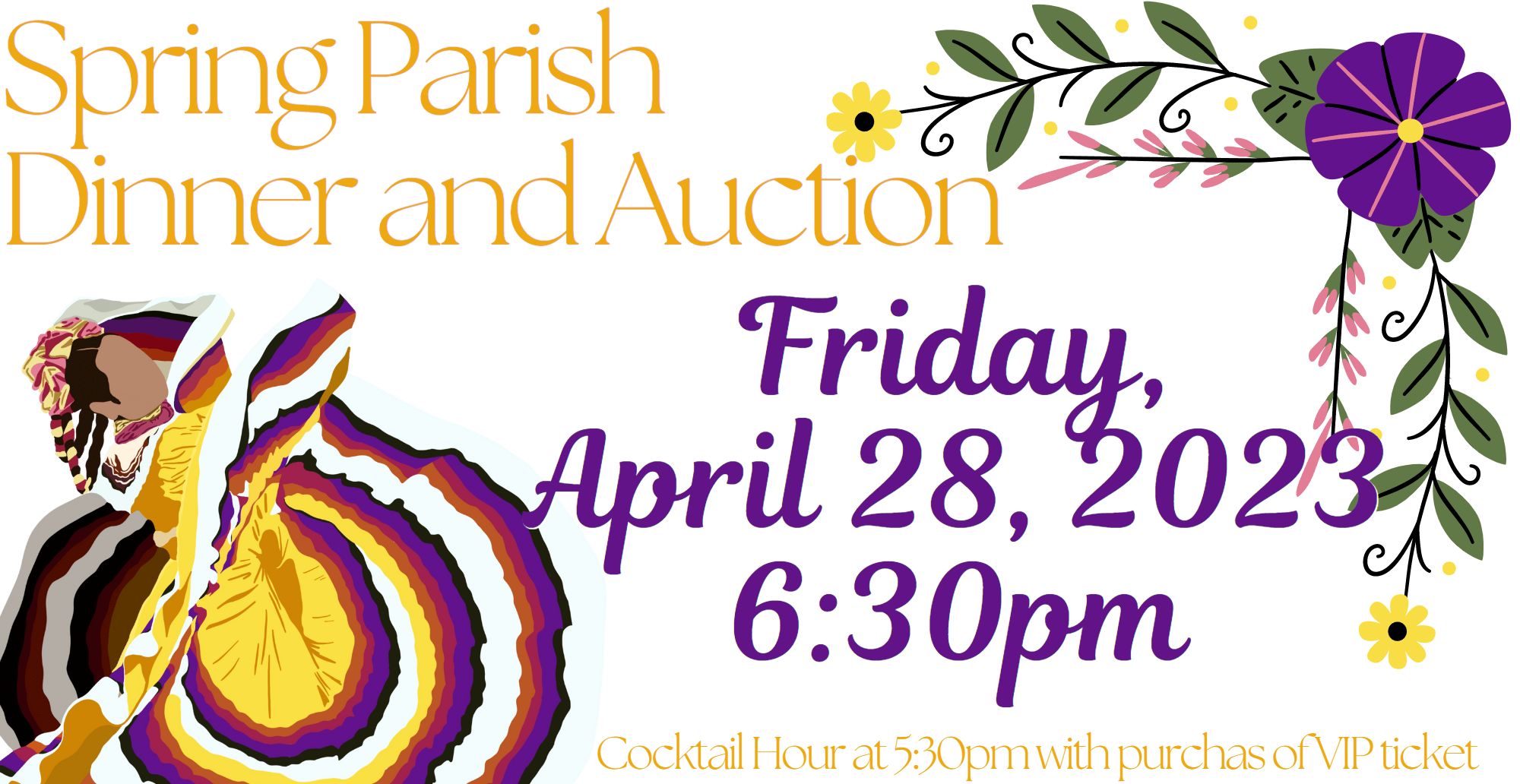 The annual Spring Parish Dinner and Auction is being held Friday, April 28, 2023 at 6:30pm in the St. Sabina Catholic Church Gymnasium. This premier fundraising event will feature cocktails, dinner, silent auction and live auction.
Online ticket sales for the parish auction are now open! Additionally, you may purchase your tickets in the parish office or after Mass in the gathering space. Advance purchase is required so that we can properly plan for the evening. Purchase your tickets by Friday, April 21 to be entered in a drawing for a SCHEELS gift card!
La Cena y Subasta Parroquial Anual de Primavera se llevará a cabo el viernes 28 de abril de 2023 en el Gimnasio de la Iglesia Católica Sta. Sabina. Este importante evento de recaudación de fondos contará con cócteles, cena, subasta silenciosa y subasta en vivo.

¡La venta de boletos en línea para la subasta parroquial ya está abierta! También se puede comprar los boletos en la oficina parroquial o después de la misa en el espacio de reunión. Se requiere la compra anticipada para que podamos planificar adecuadamente la noche. ¡Compre sus boletos antes del viernes 21 de abril para participar en el sorteo de una tarjeta de regalo de SCHEELS!

4pm & 10:30am Choir Groups
8am Choir Group
Aaron's Family Fun Center
Abundant Life Chiropractic
Access Nail
ADA Fundraising & Auction Merchandise Source
Advanced Eye Care
Aggie Cooper
Ann Becker Schutte
Arbor Masters
Aubrey Vineyard
Balance Point Heating and Cooling
Belfonte Ice Cream
Berenice Zayas
Bill Roberts
Biondo's Italian Cookies
Bob & Sharon Olson
Bock's Steam Star
Brandon & Meagan Embry
Brewbakers
Brian & Susan Ratigan

Cari Samuelson
Carol Welborn
Celia Hernandez
Charlie Redenbaugh
Clint Christy
Coach's Corner
Corey & Kimberly Pointer
Dale & Nancy Amfahr
Dave & Kathy Kratofil
David & Amy Kille
David & Shannon Gill
Deacon Mike & Denise Gates
Dennis & Lorna Atkins
Dick Deschenes
Doug & Kathy Moorman
Fr. Jeff Stephan
Fran Cashion
Gail Schmidt
Gary & Peggy Manning
Gene & Ana McEwen
Gene & Bev Putthoff
George & LuAnn Nelson
Glen & Mary Schmidt
HyVee

I. Donnelly Co. Inc.
Jason & Danielle Weeks
Jeanne Schwarz
Jessica Herschend
Jim & Liz Wilson
Jimmy Johns
John & Chris Ryan
John Feuerborn
Kansas City Current
Kansas City Zoo
Karen Mansker
Kendra Scott Jewelry
Kerri Rellihan
Kevin & Cathy Duncan
Kevin Tschirhart
Knights of Columbus Council 5586
KofC Ladies Auxiliary
KW Southland Partners, Nanette Middleton
Law Offices of John P. Ryan, Jr.
Longhorn Steakhouse
Louise McNelly
Madalynn Gill
Manos Amigas
Mark & Danielle Haus
Merle's, John Feuerborn
Mi-T Flower/Patio Boxes, Mitch Meiron
Mike & Kris Larkey
Mitchell Theatres
Nancy Meiron
New Theatre & Restaurant
Nichole Ismert
Nick Biondo
Nina Leek, Better Homes & Gardens Real Estate
Oriental Trading Co.
Owen Lumber Co.
Pat & Gloria Madden
Peculiar Golf
Picture This Video Inc.
Price Chopper
PRP Wine International KC
PSR 2nd Grade Class
PSR 6th Grade Class
Randy & Sherri Gallick
Respect Life Committee

Sam Incorvia
Sandy Littler
Scheels
Scott Cook
SheBella Birk, Sheila Birkner
Sierra Building Products
Silver Dollar City
SPC Portrait Art
Spencer Dreas
St. Sabina Green Team
Stephanie Jones
Strauss Peyton
Susan Mansker
Suzy Moore
Teresa Kelly
The Knot Box
The Regnier Family Wonderscope Children's Museum of Kansas City
The Roberts Nest
Tim & Tricia Eshleman
Tom & Susan Rolli
Tony & Julie Lafata
Tschirhart Plumbing

And to all those who wish to remain anonymous… THANK YOU!