Your Wedding: Preparing for Marriage
As people of faith, we believe that these days of preparation are truly filled with grace and favor for you by the Lord. We encourage you as a couple to turn more frequently to God in prayer and reflection. It is important to be as equally concerned about your plans for a marriage as about your plans for a wedding; searching for a sacrament more than a ceremony is key.
The preparation process begins with the FOCCUS Inventory. FOCCUS stands for Facilitating Open Couple Communication, Understanding and Study. It is a diagnostic inventory designed to help couples learn more about themselves and their unique relationship. It consists of 150-200 questions and takes couples about an hour to complete, and may be completed online. After completion, we will go over the results. FOCCUS is not a test, and it is not used to label couples or predict marital outcome. We use it to help couples celebrate their relationship strengths and talk to each other about topics that may need further attention.
After FOCCUS, a lead couple will be assigned to you and the parish will give you materials to help dialogue with your lead couple. Please contact Kris Larkey to arrange for a lead couple after you have finished FOCCUS. You may choose an Engaged Encounter Weekend in place of Lead Couple Sessions. Ask Kris about upcoming dates and reservation phone numbers for Engaged Encounter, if you choose this option. If neither the lead couple option nor the Engaged Encounter option work with your schedule, please ask Kris about online marriage preparation.
Tom and Teresa Baldwin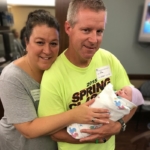 Tom and Teresa were married on September 5, 1992. They have 2 kids: TJ and Anne Marie and a granddaughter, Lyla Rae. They met in grade school when Tom went to school with Teresa's brother, but didn't start dating until Teresa was a junior in high school and Tom was in early college. Tom proposed to her on his 27th birthday and they got married 9 months later. She was 24. Apparently the story goes that when Teresa was in 3rd grade and Tom was in 6th grade, Teresa told her mom "I'm gonna marry that man someday!" Tom is glad she was right, and the rest is history!
Chuck and Mary Sellmeyer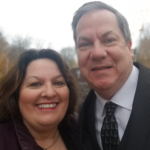 Chuck and Mary were high school sweethearts and married on June 26, 1982. They have four children: Bill, Liz, Krissy and John. Liz has their two oldest grandchildren, Dallas and Savanna. Krissy married Alex Berkovich in 2017. John married Alondra Marin in 2016 and they have two children, Ben and Truman. Chuck and Mary have lived in the Kansas City area most of their lives, aside from 7 years in St. Louis, and have been members of our parish family since 2000. From Chuck and Mary: "Our faith and our family are the most special things in the world to us. We love being part of the St. Sabina community."
If you are interested in further preparation for your marriage, our diocese offers a couple of other optional preparation sessions that you may choose to participate in:
Natural Family Planning Introductory Session – At the introductory session you will learn the benefits of Natural Family Planning, the impact of a woman's natural fertility cycle in planning and spacing the introduction of children to the family, and the support of the Church's teachings regarding human sexuality, marital bonding and nurturing of the couple relationship. If you choose to attend an introductory session, you may register through the diocesan website.
God's Plan for a Joy-Filled Marriage – This program is designed to offer a sincere proposal of the truth and beauty of Catholic teaching. The program is based on the vision of Pope John Paul II's Theology of the Body, which addresses the way we understand ourselves, the vocation of marriage, and the call of God to be fruitful. If you choose to enroll in this program, you may register through the diocesan website. The cost for this program is $50.