Prayer Resources
During difficult times like these, it's important to remember what Paul calls us to do in the first letter to the Thessalonians and that is to "Pray without ceasing." We encourage you to use these resources to continue your family's prayer life:
Prayers Concerning Corona Virus
Daily Reflections on the Readings
Parish Updates
Free At Home COVID Tests through USPS
Did you know that you can now order 4 at-home COVID tests completely free? Place your order using the following link. It's really easy; all you need to provide is a name and shipping address, and if you'd like shipping notifications, an email address. One order of 4 tests is allowed per household and the tests ship free. https://special.usps.com/testkits
COVID Vaccine Clinic – February 6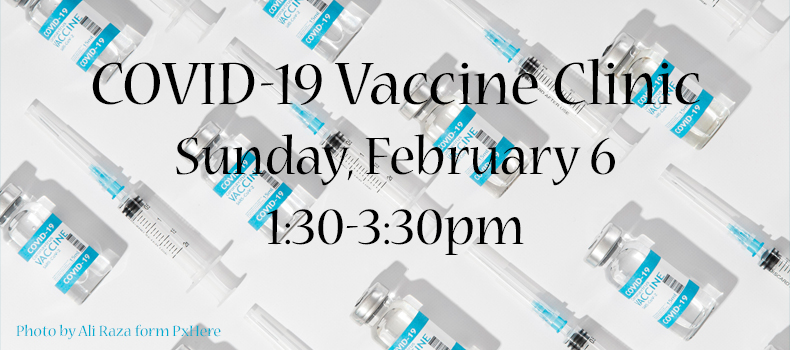 January 2022 Update
In order for each of us to better protect ourselves and fellow members of our parish family, we have made the following updates to the precautions we are taking to prevent the spread of the Coronavirus:
-Fr. Jeff has granted dispensation to those who feel unsafe celebrating Mass in person. The 4pm Saturday Mass will be streamed in addition to 8am and 12:30pm Sunday Masses.
-All ministers serving at Mass will wear masks.
-The choir will have a limited number of members at each Mass.
-During the sign of peace, we encourage all to greet those outside of their own household with a wave, head
bow or peace sign.
-All are encouraged to use sanitizer before receiving communion. This helps protect those behind you.
-All are encouraged to wear a mask when moving about the building and to do your best to social distance between households.
We appreciate your cooperation in our hope to protect our parish family from this virus.
Liturgical Guidelines
As we continue serve and minister during this pandemic, we have based our liturgical guidelines on the recommendations provided by the CDC. For the well being of all our parish family, most especially those who are more vulnerable, we expect all to follow these guidelines, in order to protect our parish family. The CDC's recommendations can be found at https://www.cdc.gov/coronavirus/2019-ncov/community/faith-based.html
Parish Safety Plan for Attending Mass
---